Home > About Us > About Smoke Generators
About Smoke Generators
What is a smoke generator?
Smoke generators, also referred to as fumigators or smoke bombs, have been used for control of pests and diseases in enclosed areas for over 50 years, and are 40% more effective than total release aerosols (TRA) in the same treatment area.
The development and manufacture of smoke generators (smoke bombs) involves a specialist technology which requires a unique blend of formulation skills and production expertise. A smoke bomb compromises 4 key components: oxidiser, fuel, inert and active ingredient – these can be varied in ratio to deliver a smoke tailored to a specific need or treatment area.
The active ingredient is often a biocide or a pesticide (natural or man-made), but it can also be a disinfectant. Please check our product range which offers protection across a range of industries: https://octaviushunt.co.uk/products/
How does a smoke generator work?
A smoke generator is a pot or tin
The formulation powder is sealed within the generator
The ignited fuse or pellet carries heat to start combustion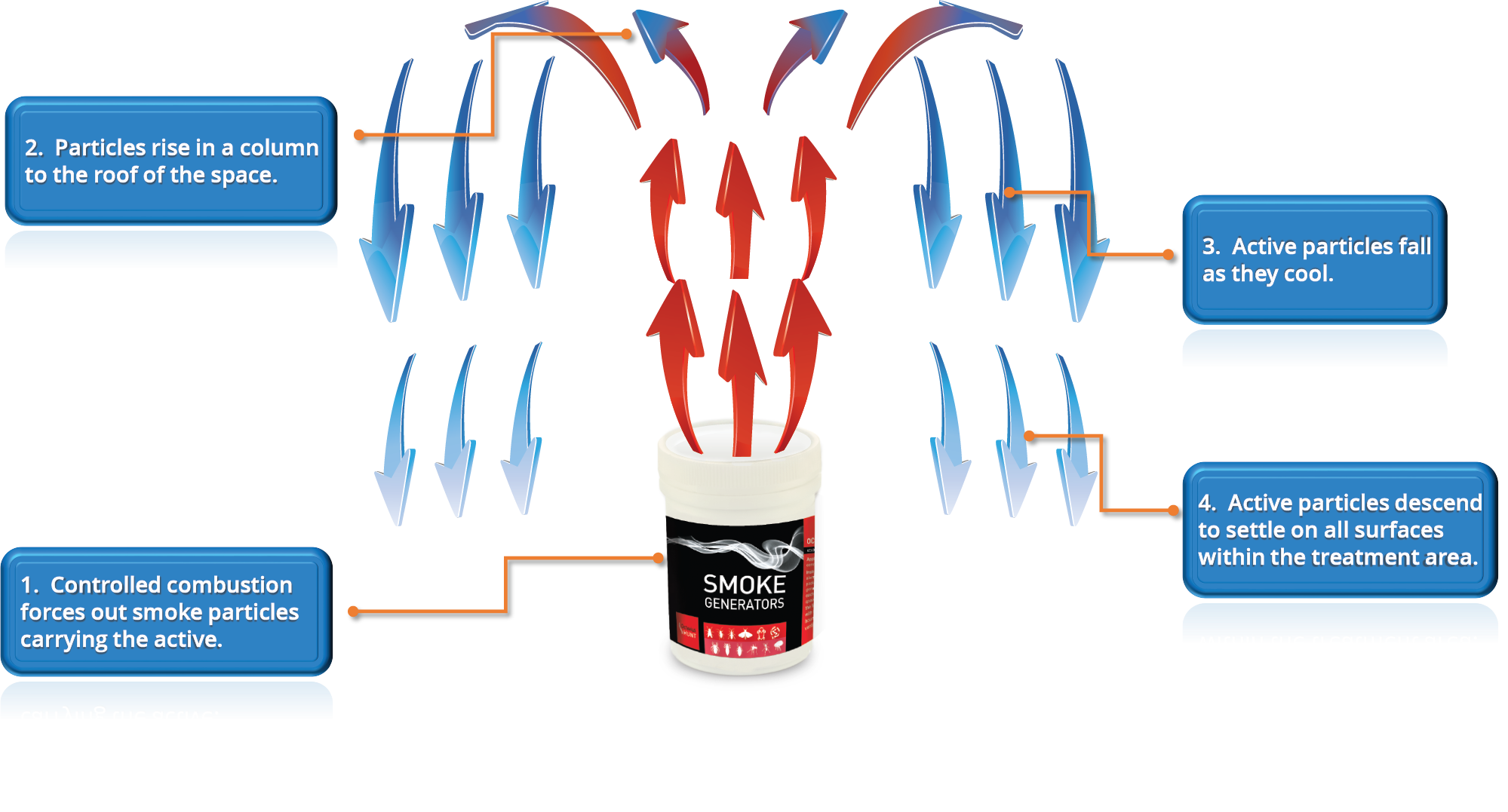 Why Use Smoke Pesticides?
The benefits of using pesticide smoke products include:
Generators are ready to-use so do not require mixing or application equipment
It's simple and easy to use: no special training or equipment is required
Proven efficacy against a broad range of pests, bacteria, viruses, mold
Smoke has a Mass Median Diameter of 2.5 µm making it ideal for flushing insects from the harbourages and providing rapid knockdown and kill
Smoke reaches inaccessible areas: roofs; cracks and crevices; inside machinery
Pesticide is deposited on vertical, horizontal and underside of horizontal surfaces ensuring thorough treatment
There is low operator exposure
Smoke is non-tainting and leaves no residual odour
Optimum effective use of small quanities of pesticide, minimising impact on environment
Low groundwater contamination – low environmental impact