Looking to grow your business at PestExtra 2021?
March 10, 2021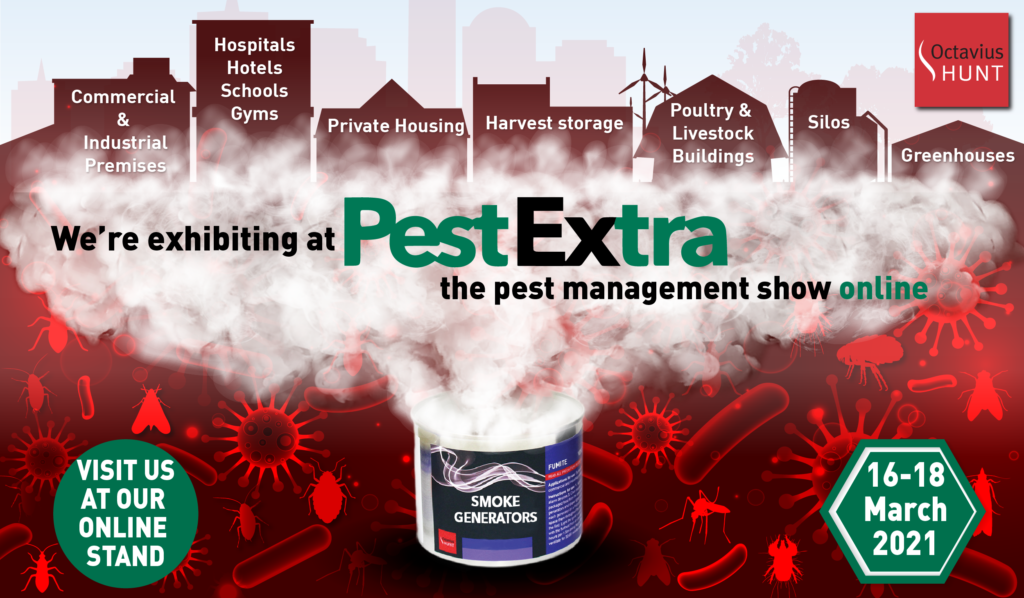 We are really excited to let you know that, despite the current world pandemic, we are still participating in exhibitions and are able to meet with you virtually next week at PestExtra online. This virtual exhibition replaces the planned PestEx hosted by the British Pest Control Association (BPCA) which is usually held in London.
Please do visit our stand online which will be open during the following dates and times:
| | |
| --- | --- |
| Tuesday 16 March 2021 | 8.30am – 12.30pm |
| Wednesday 17 March 2021 | 2pm – 8pm |
| Thursday 18 March 2021 | 10am – 3pm |
You can register for the exhibition via this link so that, as well as meet with our team, you can take advantage of available industry talks and seminars: pestex.org/register
The Octavius Hunt team will be available to speak with you via video or chat from our virtual stand. We are looking forward to answering any questions you might have about our low-residue Smoke Generators / Fumigators – the most cost-effective and fast method of treating pests or diseases in any enclosed area – and help you determine which products are best suited and meet your customer needs.
If you are looking for a manufacturer that can help you grow the value of your brand, then come and visit Octavius Hunt's team where you can find more details about private labelling and the development of your own pesticide, disinfectant or natural repellent smokes.