Octavius Hunt Christmas Shutdown
December 14, 2020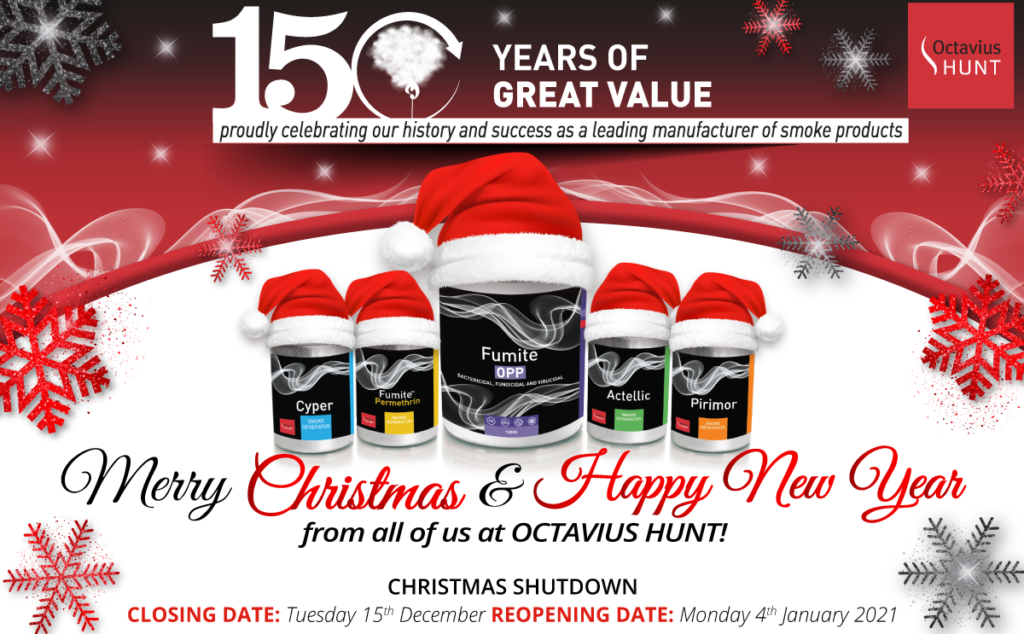 As the end of the year approaches, The Octavius Hunt team would like to take the opportunity to say a huge 'Thank You' for your support throughout the year.
It has been a challenging year for all of us and throughout 2020 we have been working hard to keep up with the demand for our disinfectant smoke generator, Fumite™ OPP to stop the spread of infections.
With your help, our amazing network of global distributors, we have successfully maintained the supply of our aerial and surface disinfectant fumer and dry pesticide smokes into international markets, ensuring the protection and safety of enclosed environments.
We had quite a lot of news this year, and although we didn't get the chance to celebrate them, we hope that next year we will be able to mark these milestones:
150 years since the company established itself at the same Bristol site in 1870 as the UK's first match manufacturer
50 years since Octavius Hunt started exporting smoke generators and pellets using their innovative technology to control pests and prevent diseases in enclosed spaces.
New ownership – our management team completed a company buyout in July.
We will be closed over the Christmas break.
Closing date: Tuesday 15th December midday
Reopening Date: Monday 4th January 2021 
Merry Christmas and Happy New Year from all of us at Octavius Hunt!